Houston Texas
Volume 3 Book 4 Part 3 of
Living in the Bonus Round
(The Big Voice Chronicles)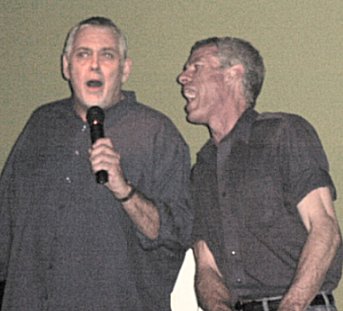 Keith Richards and Mick Jagger
LIVE at the Meteor Lounge!
[ Book 3-3 ] -- [ Pt 1 ] [ Pt 2 ] [ Pt 3 ] [ Pt 4 ] [ Pt 5 ]
[ Pt 6 ] [ Pt 7 ] [ Pt 8 ] [ Pt 9 ] [ Pt 10 ] -- [ Book 3-5 ]

April 3, 2003.
The Meteor Lounge!


We were booked this night for a promotional appearance at the Meteor Lounge here in Houston. The Meteor Lounge is a big, modern, beautiful video bar not far from downtown, near the Montrose area. The idea was that we'd set up the keyboard and do a couple of numbers from the show.


Poster up on the brick wall outside the lounge.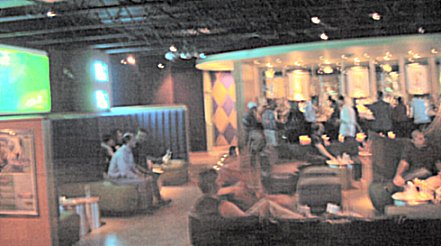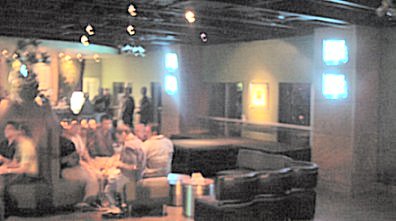 You can see from these two shots that there are video screens all over the place.
This was a very clean, well-lit bar. The stage is on the far right.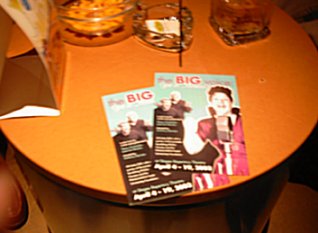 Big Voice postcards were spread out on the tables.
They made excellent coasters.
And as much as we were thrilled to be doing this personal appearance, we weren't sure this was "our" crowd. It was singles night at the Meteor Lounge! Lots and lots of gaybois talkin', drinkin', chattin', look for love in all the right places... but what the heck!

Speaking of looking for love... our first big surprise was in the bathroom...


Goofing off in the bathroom in front of the Big Voice poster.
The things we do for our art!
I caught Jim and Kenn in the act of... uh... something.

The great surprise about doing this show here in Houston right now is that the National Alliance of Musical Theatres is in town for a big series of meetings. So, Michael Alden and Nancy Nagel Gibbs (who will eventually be bringing Big Voice into New York) were in town along with a bunch of other theatre owners and managers! What a perfect opportunity to promote the show while all these folks are in town.


Nancy, Jimmy & Michael.

The club was loud and raucous. The videos were blasting and Jimmy and I felt really nervous. Like, why would these "kids" stop and listen to the two of us when there was hookin' up to be done?? But the DJ arrived about 9:30 and finally we were introduced. On the big video screen at the far end they flashed the ticket info for the show.


Notice the way they spelled "Tickets"


When it was our turn, we just popped up on the stage and started going for it.

It was hard to tell if anyone was actually LISTENING to us. This was a busy night with lots of chatter and talk, so Jimmy and I felt a bit out of place. But the DJ did say that we managed to do something no one has ever done before. We managed to use the microphone on stage without feedback. So I guess that's something!

Anyway, tomorrow night is opening night and, as I said earlier, our goal is to raise $10,000 for the PFLAG/HATCH Student Scholarship Fund.
[ Book 3-3 ] -- [ Pt 1 ] [ Pt 2 ] [ Pt 3 ] [ Pt 4 ] [ Pt 5 ]
[ Pt 6 ] [ Pt 7 ] [ Pt 8 ] [ Pt 9 ] [Pt 10 ] -- [ Book 3-5 ]
© 1996-2003 by Steve Schalchlin.

You have permission to print from this diary and distribute for use in support groups, schools, or to just give to a friend. You do not have permission to sell it.