The Quest
Volume 3 Book 7 Part 3 of
Living in the Bonus Round


Steve sings!
[ Book 3-6 ] -- [ Pt 1 ] [ Pt 2 ] [ Pt 3 ] [ Pt 4 ] [ Pt 5 ]
[ Pt 6 ] [ Pt 7 ] [ Pt 8 ] [ Pt 9 ] [ Pt 10 ]
[ Pt 11 ] [ Pt 12 ] [ Pt 13 ] [ Pt 14 ] [ Pt 15 ] [ Pt 16 ]

January 14-17, 2004.
Weinie Dogs & Pizza.

ALL SYSTEMS GO:
I just got the best news of all from my recent blood tests. My triglycerides were down to 187 and my cholesterol was 125. New readers should understand that not six months ago, my triglycerides were at 1900, four time heart attack level. Now they're at 187. I'm a medical miracle. I attribute it to several things: better diet and new music pouring out. I am so ready to get to Indianapolis! They created a Yahoo group for the cast so we've already started getting to know each other.

I went back to Espy Music Studio this week and recorded a few more songs. These were the "leftovers." The "I don't know what category to put it in so I'm just gonna make a demo and listen to it later and decide cuz it might be total trash" songs.

Here are two reasons why the Espys are my second home in Los Angeles: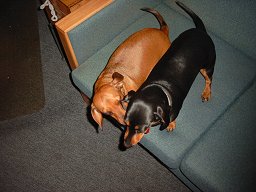 Everytime I enter, there's usually a brief argument on the front couch
about who gets first dibs. It's nice to be loved by a dog.
Belle is brown. Moxie is black.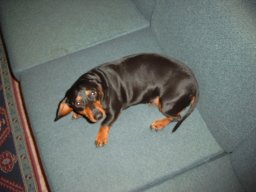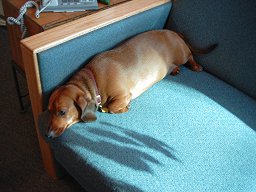 Eventually, they calm down but Moxie (L) is ALWAYS ready to get sum luvin'.
It's part of Moxie's soul.
Belle (R) drifts off into thought a lot.
Moxie and I have this thing. When he was a baby I used to nuzzle his nuzzle. It was to avoid his lick. I would give him teeny little kisses along his nuzzle between nose and his eyes. Now, whenever I see him, he'll get up in my lap and immediately put his nuzzle up to mouth and just hold it there. It's so funny. AND he doesn't lick.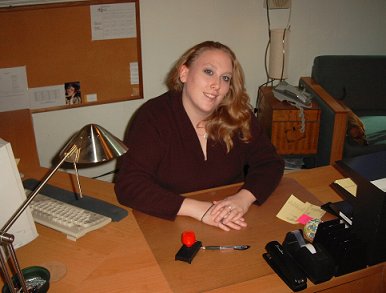 There is beauty at the front desk. And smarts.
And see how efficient her desk looks!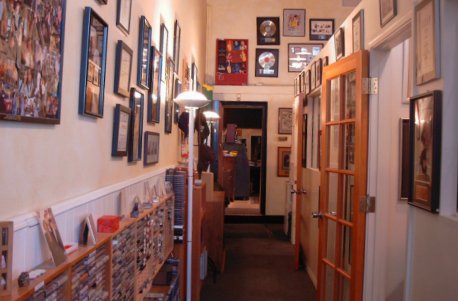 I love the open space and how warmly it's decorated.
It's like being in someone's home. Inviting. Safe.
The door to the studio is there at the end.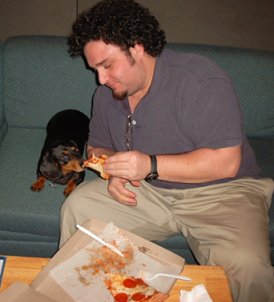 Marc, engineer for the day, is a very giving person.
Or Moxie is a very taking dog!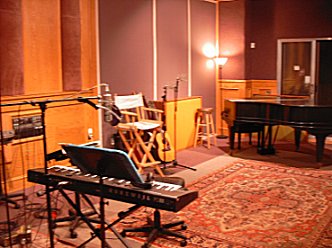 My playpen.
Keyboard, music stand, microphone.
Marc had it all set up by the time I got there.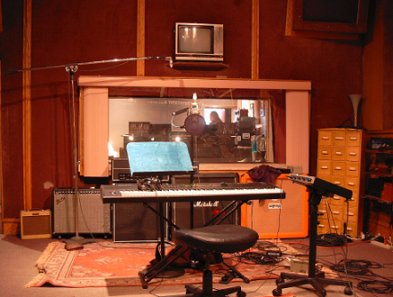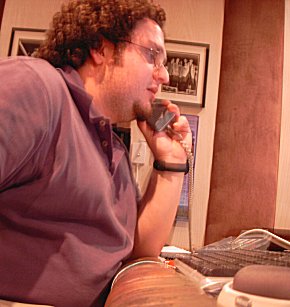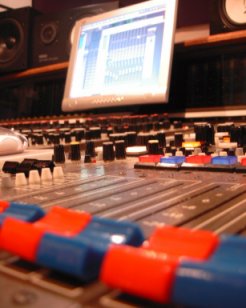 Mark calls for assistance. He's very good at solving problems.
Because he's new, just out of studio school, this becomes a kind of real world test.
I am the guinea pig artist.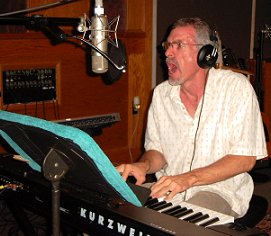 Rocking out a bit.
It was a pretty good session. I had also rewritten the prologue for NEW WORLD WAKING, so I managed to get that in, plus the epilogue and main theme. We did four songs, total, I believe. Maybe five. But it was a long day. I fell asleep in the chair while he was mixing. Then it was time to go.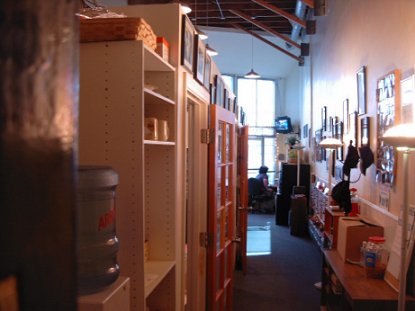 Heading back out to the lobby.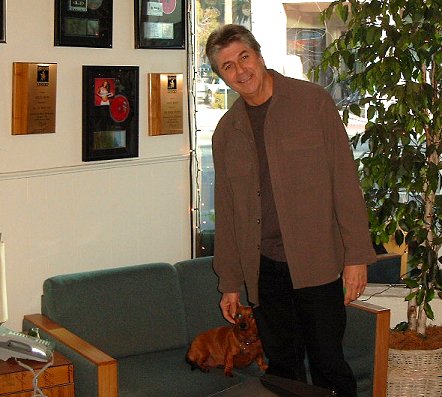 There's Kim! Bye, Kim!
© 1996-2003 by Steve Schalchlin.

You have permission to print from this diary and distribute for use in support groups, schools, or to just give to a friend. You do not have permission to sell it.