The Quest
Volume 3 Book 7 Part 7 of
Living in the Bonus Round

[ Book 3-6 ] -- [ Pt 1 ] [ Pt 2 ] [ Pt 3 ] [ Pt 4 ] [ Pt 5 ]
[ Pt 6 ] [ Pt 7 ] [ Pt 8 ] [ Pt 9 ] [ Pt 10 ]
[ Pt 11 ] [ Pt 12 ] [ Pt 13 ] [ Pt 14 ] [ Pt 15 ] [ Pt 16 ]
February 2-4, 2004.
Backstage Photos.

This is our crew. They are young, talented and dedicated.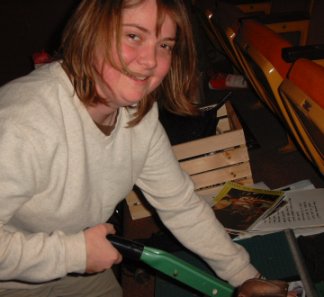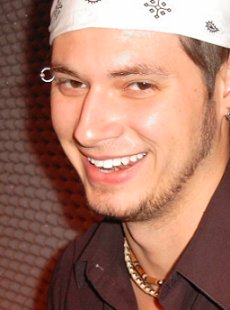 Christian McKinney building sets. Matthew Miller the tech director.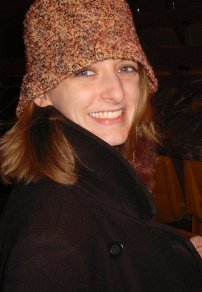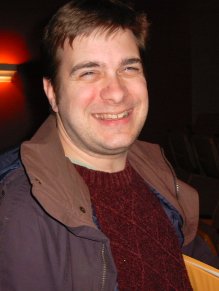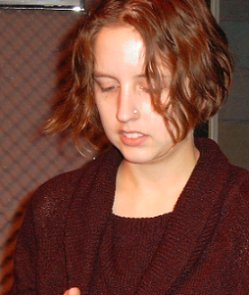 Rachel Lambert our lighting designer,
Jay Hinkelman the musical director, Rissa Guffey is an asst. stage manager.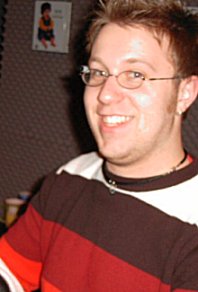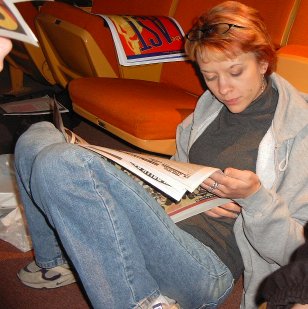 Jared Duymovic is an asst. stage manager, Chandra DeNap is our beloved stage manager.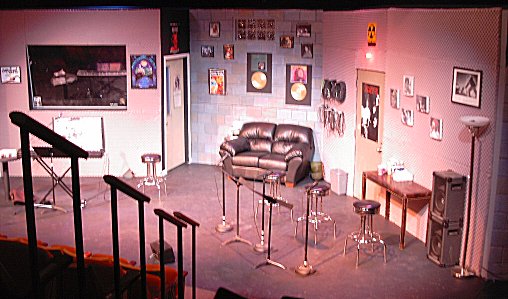 The set as seen from house right.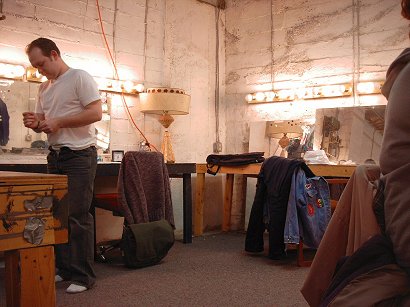 Our dressing room.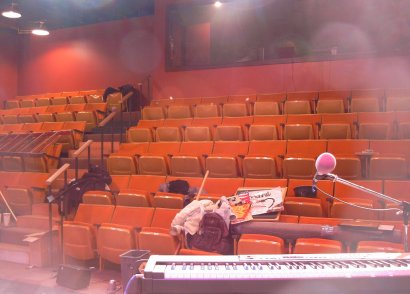 House seating from Gideon's vantage point.
Here's the opening night party: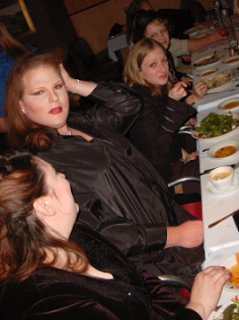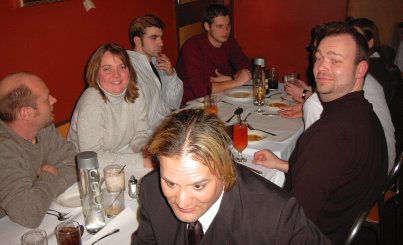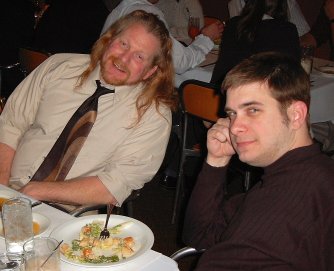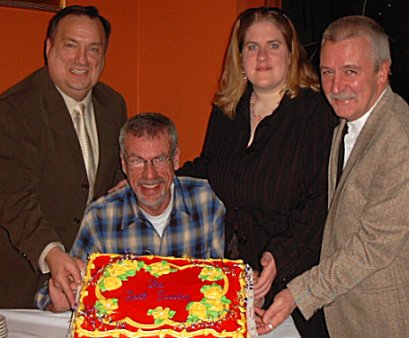 Back: Producer John Doti, Director Ruth Hawkins, artistic director Ron Spencer.
Steve Schalchlin takes the cake.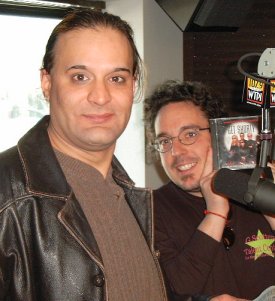 Jonathan Markanday, front, is our publicity guy.
That's his radio partner Matthew Socey behind him.
On Saturday morning I appeared on a radio program with Jonathan Markanday, Jon and I are becoming really good friends. He has this wonderful British accent and is a trained actor who has performed Shakespeare to great acclaim. (On the other hand, he wrote me and said he first fell in love with America by watching TV shows like Starsky & Hutch.) LOL.

Their radio show is a movie review program. He and his partner have a great rapport and I told them they should be syndicated. They both have a wonderful breadth of knowledge about movies as well as a true love for the artform (although I did have to tell him how to pronounce Shohreh Aghdashloo and Djimon Hounsou). And why would I get to be on a movie review program? Well.. I live in Hollywood!

(That reminds me of the episode of Fernwood Tonight where they had a guest appearance by a "Jew traveling through town." One of the callers called in to say how much he liked Barbra Streisand.)

So, knowing I needed to talk about movies, I wrote a friend of mine who works in the movie studios for any backstage gossip. (He didn't have any). And I talked about the current efforts to bring The Last Session and The Big Voice to the big screen. (Which is hard since there's nothing specific that I'm allowed to talk about yet. Basically I told them I would happily accept a check.)

I'm going to post this diary Wednesday morning. This afternoon we get a review in the alt weekly. Keeping our fingers crossed.

Meanwhile, across the country in Virginia, director Shon M. Stacy has had to step in and take over the role of Gideon. His leading man was experiencing some medical difficulties and had to pull out. Shon's totally adorable and we've been emailing each other for many months. They open tonight. Mazel tov!


Shon M. Stacy as Gideon.
Richmond Triangle Players.
Richmond, Virginia.
© 1996-2004 by Steve Schalchlin.

You have permission to print from this diary and distribute for use in support groups, schools, or to just give to a friend. You do not have permission to sell it.