A Chicago Story
Volume 3 Book 8 Part 8 of
Living in the Bonus Round

The Last Session -- Chicago reading.
Neda Spears, Alexandra Billings, Steve Schalchlin,
Jon Lambert, Jim Meade.
[ Book 3-7 ] -- [ Pt 1 ] [ Pt 2 ] [ Pt 3 ] [ Pt 4 ] [ Pt 5 ]
[ Pt 6 ] [ Pt 7 ] [ Pt 8 ] [ Pt 9 ] [ Pt 10 ]

March 23, 2004.
A Joyous TLS Rehearsal.

This entry will be another photo album because there isn't much to say except that we finally met for our first and only group rehearsal on Tuesday night. And this cast is gonna knock Chicago on its ass. Neda Spears is a fiercely present and soulful Tryshia (and what a singing voice!). Jon Lambert brings his beautiful innocence to Buddy. Jim Meade is a witty and sharp Jim. Alexandra Billings (who got top billing in the press release!), though, had us all on the floor with her Vicki. Her comic timing and natural instincts are absolutely brilliant. I have no idea how I'm going to keep from cracking up during the show on Wednesday night.

The rehearsal took place in the little conference room at the Theatre Building and I think it was the perfect venue because it had the exact feeling of being in a small recording studio.

Jimmy set a relaxed and professional tone. Our harmonies kicked ass from the first note. Jim Meade told me later that he couldn't believe it was our first time to sing together. We were already jelling, both in sound and personalities, like a band. Honestly, this is way more than I could have ever hoped for. I'm so excited to just get out into the theatre and do it Wednesday night.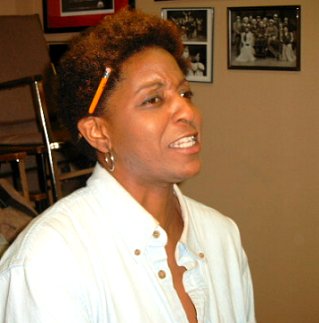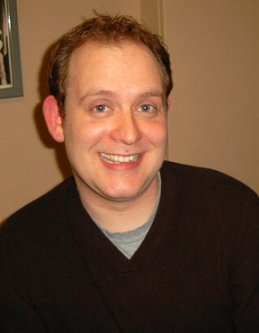 Neda Spears. Jon Lambert.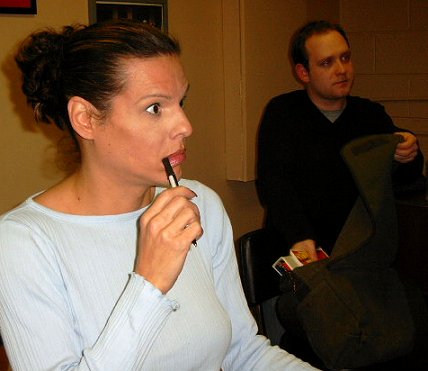 Alexandra Billings.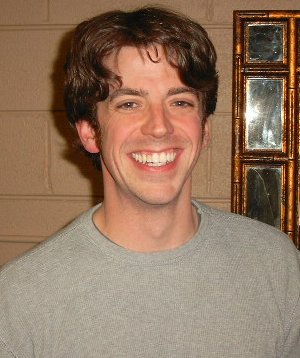 Jim Meade.
(How cute is he?)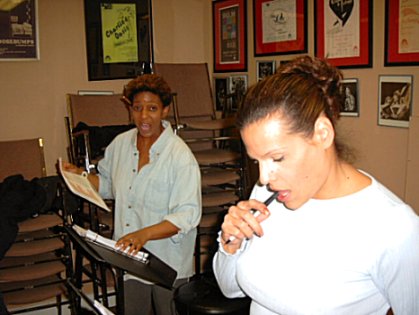 Neda & Alexandra.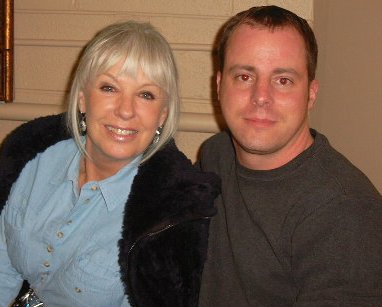 Sue & Jeff (stage manager) were our audience for the night.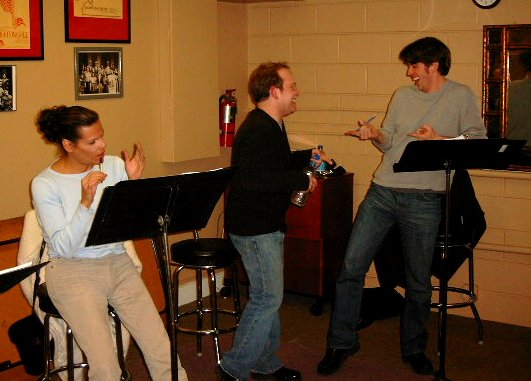 Jon and Jim joking around while Alexandra works on music.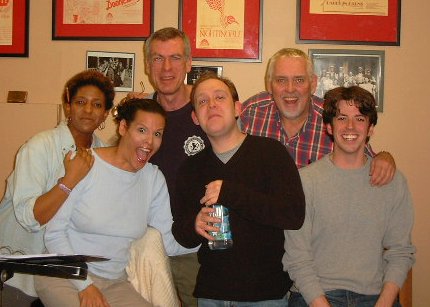 The cast with director Jim Brochu.
Last week we were visited by James Tobey from Omaha. We've been discussing bringing Big Voice to Omaha in June for their annual SNAP!fest. He took a GREAT picture of Jimmy and me. He and his friends Avaria and Rosa drove 8 hours to see us!


James Tobey, Avaria and Rosa pose with Steve.


How cute are WE??
[ Book 3-7 ] -- [ Pt 1 ] [ Pt 2 ] [ Pt 3 ] [ Pt 4 ] [ Pt 5 ]
[ Pt 6 ] [ Pt 7 ] [ Pt 8 ] [ Pt 9 ] [ Pt 10 ]
© 1996-2004 by Steve Schalchlin.

You have permission to print from this diary and distribute for use in support groups, schools, or to just give to a friend. You do not have permission to sell it.