Anthony Barnao, director. Jonelle Allen, Jim, Peggy Mannix on right.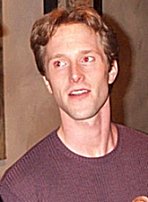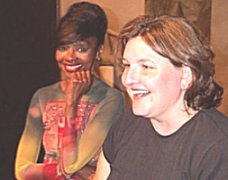 Michael Lightsey (L), Jonelle Allen and Ann Partrich.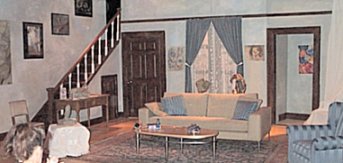 The set!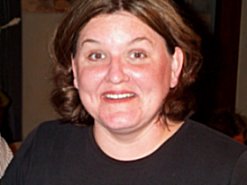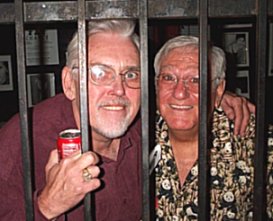 Ann Partrich plays the main character, Maddie.
Jim and friend Mort Schwartz pose behind bars.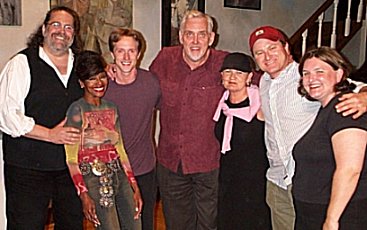 The whole cast. Director Anthony Barnao, Jonelle Allen, Michael Lightsey, playwright Jim Brochu, Peggy Mannix, Todd Truley, Ann Partrich.
It might be a soufflé, but it's a hilarous one. I don't think I've ever laughed so hard for one solid hour in my life. Honestly, that first act, where all the pieces get thrown together... By intermission, you're weak and in pain. The second act becomes more dramatic as the sitation plays out but what a delight to revisit a play that we hadn't thought of in years and to finally see it on its feet in living color.

This is the kind of play that theatres around the country could use as a "tentpole" play, a moneytree. It's a cashcow waiting to happen, and it gets good reviews too!

This weekend also heralded the closing of Kander & Ebb's 70 Girls 70 at the El Portal Theatre (directed by Jimmy). It was kinda sad to see it closing. The audiences loved it but unfortunately the critics hated the book and some of them even hated the score (which I think is wonderful). But what can ya do? That's show biz.


Saying goodbye from the stage.


Charlotte Rae takes a bow.


Sally Struthers came to see it. Jimmy and Jane Kean.


Charlotte Rae & Marni Nixon.
On the health front, I am frustrated a bit. My doctor wants me to undergo a procedure -- well, it's to drink radioactive iodine to kill off my thyroid. But he said it takes two months to stabilize the measurements and then figure out the dosage, etc. He said since he hadn't guided this procedure, he would refer me to another doctor.

That doctor said he had too many patients and referred me to a different doctor who said he couldn't take me until July. Well, see, I don't have that big a window for this. I even pushed a possible TLS Rochester revival off until September because I thought we could handle this and get it done by the end of July. But if we don't START until July... Oh well... the wonderful world of medicine.

I'm also on an injectable steroid for weight maintenance. Fine, except the manufacturer suddenly decided it wasn't going to make it anymore and no one makes a generic. There's a pill subsititute but my doctor says the pills are no good for me because they raise the blood sugar levels.

I just feel frustrated. I eat like a horse. I eat so much I can't move sometimes, but it's all low-fat, non-sugar because of the side effects of high cholesterol, high triglycerides and diabetes but I'm supposed to gain weight. So I've learned how to give myself shots but now they've discontinued the shot medication.

And to top it all off, I'm going through an artistic crisis. And before anyone writes me an email soothing me (please don't), let me say that every writer goes through this. It's totally a part of the process. I know it is. I keep reminding my conscious brain that it's a part of the process but I can't help it. Here it is:

I hate all my songs.

There. I said it. Now that I have the first mixes of the new material, the songs I've been writing for five years. Now that I've been working with Barry for two weeks and have spent endless hours nurturing, pampering, sweating, crying, bleeding and rehearsing over these songs, I hate every last one of them. I hate my singing. I hate the lyrics. I hate the melodies. I hate the way they sound. I hate them all. I'm the worst songwriter in the world. I'm the most talentless bum who ever pretended to write a melody.

AND DON'T WRITE ME AND TELL ME DIFFERENT. IT WON'T WORK. I have to get through this myself. It's a part of the process. Everyone hits this wall. Everyone who has ever written has felt like the most worthless piece of crap. That's just the way it is. There's no way around it.

But that's where I am right now. It's the most awful feeling because my logical inner self KNOWS this is part of the process; that I've been through this before. My most logical part of my being is telling me to just cool it. Just put them out. Just forget what your brain is saying. To look at all the good things people have said, to remember how powerful the songs were in Rochester, to get back to that high where you felt like you were Sondheim, McCartney, Sting, Neil Young and John Fogerty all rolled up into one...

GAH!

No. Not today. Today I hate them all. I hate my songs. I hate everything I've ever written. So what does one do when one reaches this point.

(I can feel you starting to write that email. Don't you dare do it. Stand away from the keyboard and no one will get hurt.)

Here's what one does. One just waits for it to pass. That's what one does. My logical inner self will rein supreme if I just continue working on the mixes and waiting for this to pass. It's just a human thing. Self-doubt is part of the process. It's part of the process. It's part of the process. It's part of the process. (See? I'm not freaking.)

I have a great husband, two gorgeous cats, challenges to overcome, a life to live. Just do it. One day at a time. You can do it, Steve. Just relax. It's all going to be okay.