Incubation Period
Volume 3 Book 9 Part 4 of
Living in the Bonus Round

Jim Brochu, Kitty Carlisle Hart, Marge Champion,
Steve Schalchlin, Ann Kaufman Schneider.
[ Book 3-8 ] - [ Pt 1 ] [ Pt 1a ] [ Pt 2 ] [ Pt 3 ] [ Pt 4 ] [ Pt 5 ]
[ Pt 6 ] [ Pt 7 ] [ Pt 8 ] [ Pt 9 ] [ Pt 10 ] [ Pt 11 ]

April 8-15, 2004.
Meeting Kitty & Marge & Charlotte & Jayne....

It all started so innocently. A movie musical from the early 50s was on the tube! Starring dance team Marge & Gower Champion.

Jimmy suddenly remembered that we haven't heard from Marge in a long time, so he called her up and it turns out she was going to be in town and needed an escort to the opening of a play, The Royal Family, at the Ahmanson Theatre.

Who better than us? So we made plans to eat at a place Jimmy and I had never heard of, Pacific Dining Car.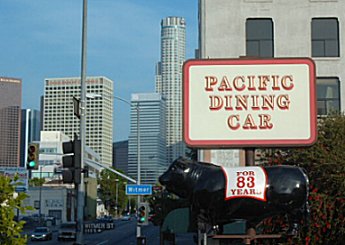 Pacific Dining Car has cows on the sign.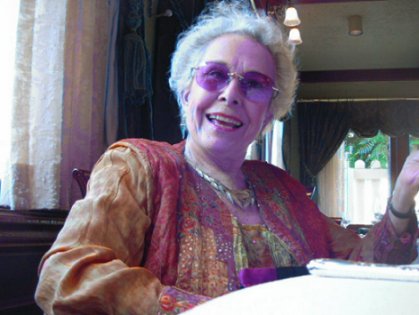 Marge Champion is a ball of fire and energy.
The food was hideously overpriced, but we got to spend some time with a theatre and movie legend. It's always fun to talk with Marge. She knows everyone and the backstage stories were FLYING! It was theatre queen heaven. She delights in telling stories and especially for a woman "of a certain age," as they say, she is sharp and smart and funny.

The restaurant offered free shuttle to the theatre. What they didn't tell us was that this same shuttle was also taking a bunch of loud, half-drunk sports fiends to the Staples Center where there was a Lakers game. They also didn't tell us that the shuttle had been waiting for us in the parking lot and by the time we boarded, the Lakers fans were ready to riot. They thought we were intentionally keeping them from the game.

So there we are in our nice theatre clothes, sitting in the back of a bus full of angry sports fans who were pissed off that they were going to miss the tip-off. I'm sure none of them ever heard of Marge Champion. Oh well. When we got to the theatre, we ran into movie star Paul Dooley. Remember him as the dad from "Breaking Away"?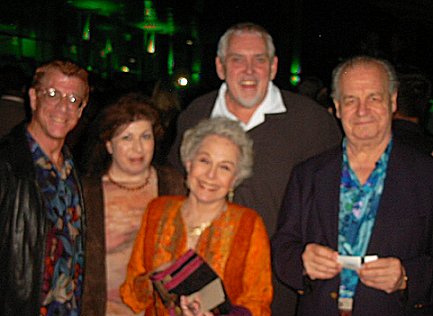 Larry Dusich (friend), playwright Winnie Holzman, Marge Champion,
Jim Brochu, actor Paul Dooley (R.)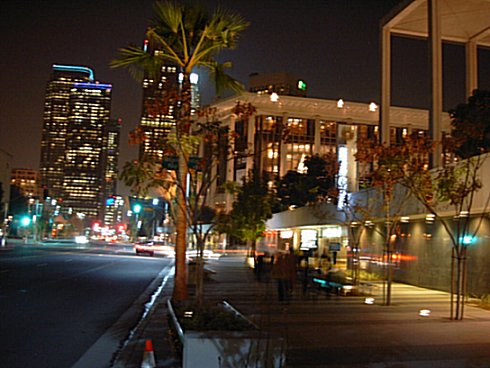 Just outside the Ahmanson.
Notice downtown L.A. at night is a ghost town. No traffic.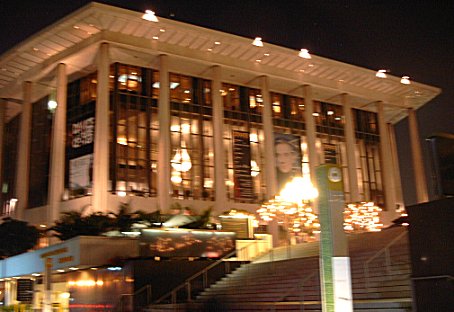 Dorothy Chandler Pavilion. Majestic at night.
The Royal Family is a play from the 30s or 40s by George S. Kaufman and is one of those creaky comedies where they spend most of act one giving you plot exposition and introducing "wacky" characters. This one is about a show biz family. The production here, though, is beautiful. The set alone was worth the price of admission and was greeted with bombastic applause. It was also great to see theatre legend Marian Seldes on stage. (We had just seen her the night before on an episode of "Frazier"). My first time. She's amazing. And backstage, after the show, she would hug anyone who came up to her -- big long hugs.

Afterwards, we went backstage to see who might show up. And we ended up getting invited to the after-show VIP party! Here's a picture gallery: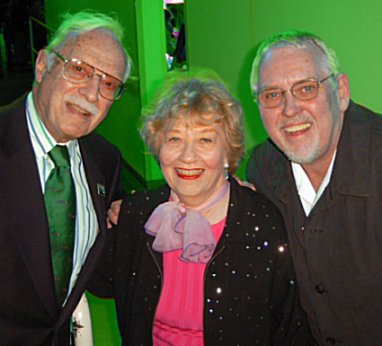 Ray Charles (of the Ray Charles Singers) with Charlotte Rae.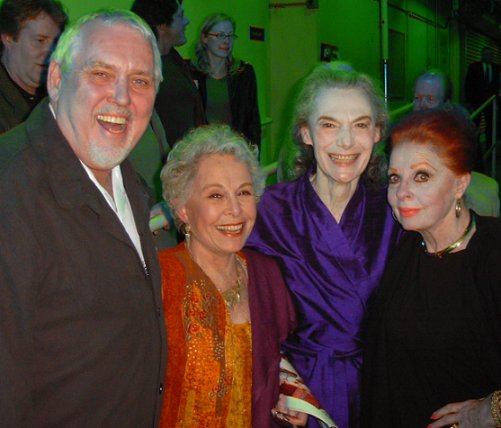 Jim Brochu, Marge Champion, Marian Seldes, Carole Cook.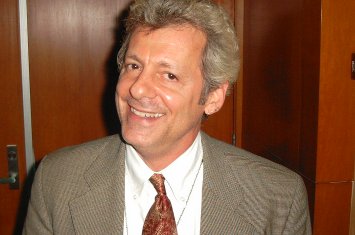 Handsome ece publicist Ken Werther.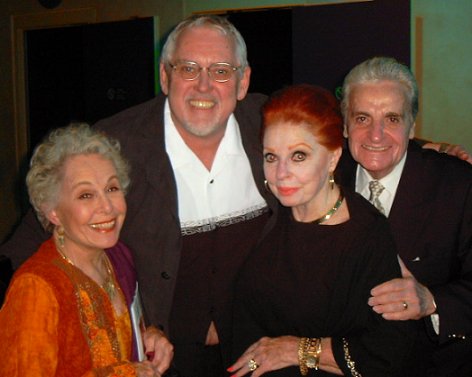 Marge Champion, Jim, Carole Cooke, Tom Troupe.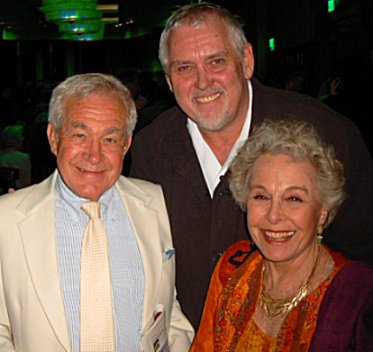 Jack Larsen (Jimmy Olsen on TV's "Superman"), Jimmy, Marge.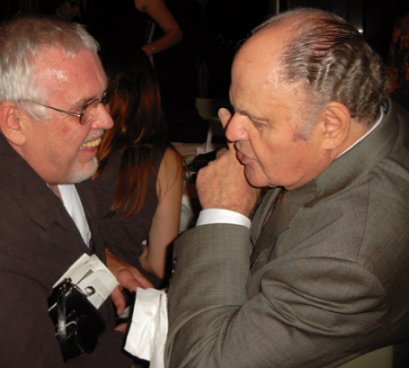 Jim and actor George S. Irving
trade bawdy stories about Davy Burns.

Jayne Meadows and her grandson Bobby.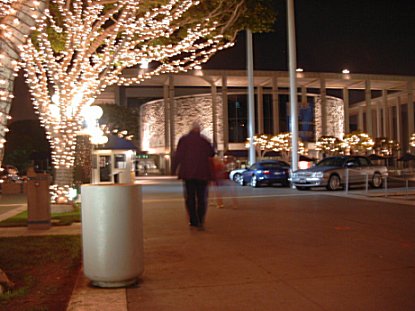 The Mark Taper Forum.

Moon over Superman's building!
© 1996-2004 by Steve Schalchlin.

You have permission to print from this diary and distribute for use in support groups, schools, or to just give to a friend. You do not have permission to sell it.