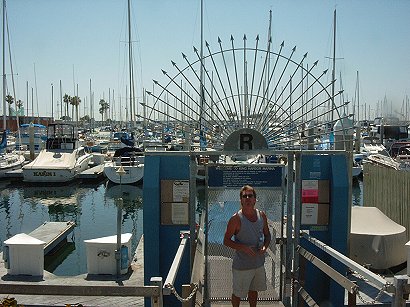 Dave stands at the Hermosa Beach gate.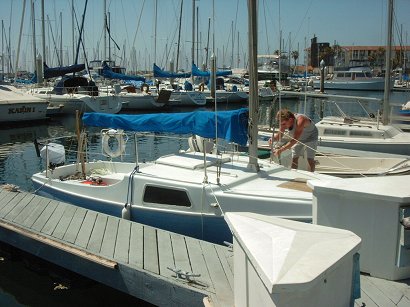 Dave gets his little boat ready.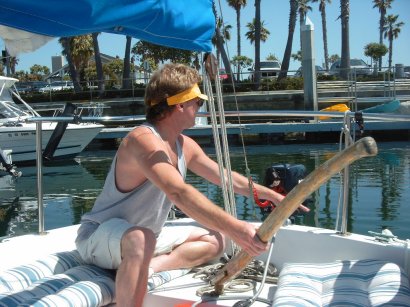 Dave likes to give orders. I always listen.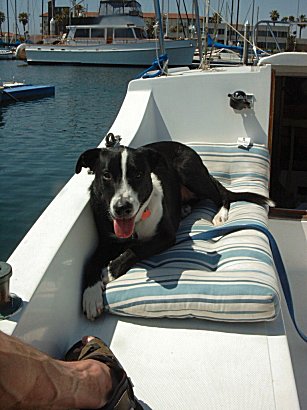 Here is my place. Dave is always telling me to sit still.
That's Steeve's sandal and foot.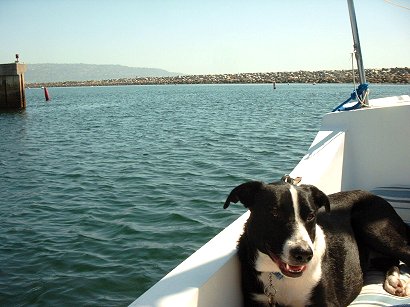 Now we're heading into the little cove.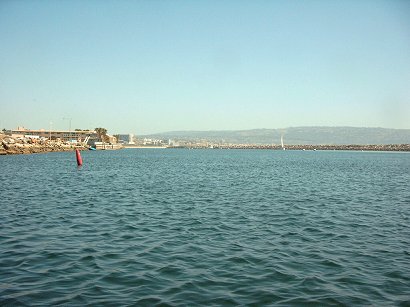 Looking across the cove to the north.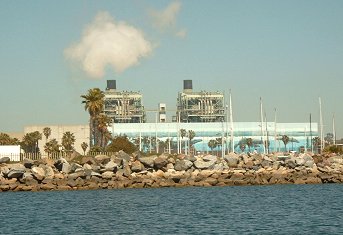 That's a wall painted with whales.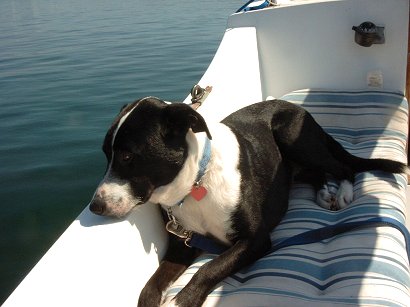 Did I tell you I have friends out here in the cove?
Here I am looking for them.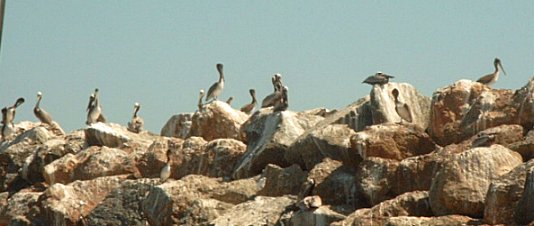 Those are penguins. I like them but they're not my friends.
[EDIT: Those are actually pelicans but, hey, he's a dog.]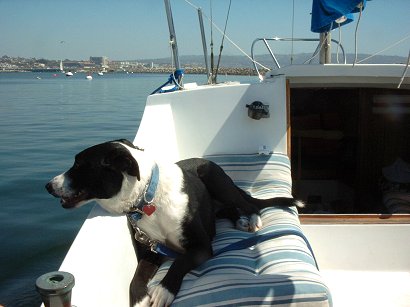 Wait! There they are!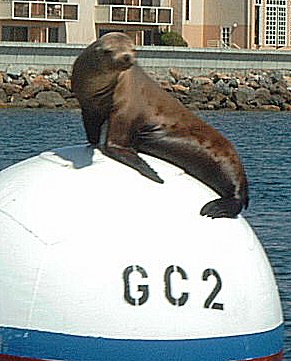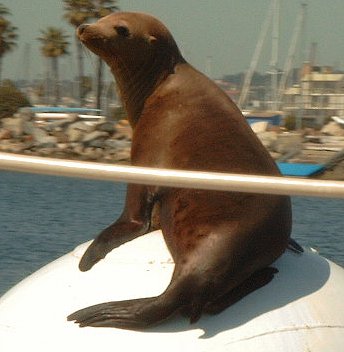 They bark like me but they don't run very well.
Steeve went home after we played on the boat. I hope he comes back soon.

May 8 - 18, 2004.
So Nice To Be Home.

As much as I love being on the road, I'm becoming more and more addicted to my home. We don't have a large place. One bedroom. One closet. One small loft area. Jimmy works in the bedroom. I work in the loft. It's tiny but it's home, y'know?

Reconnecting with Dave Woeckener (last diary entry) has been the best thing ever because I'm much better when I have a deadline (as are, I think, most people). Now that he's started up his own publishing company, I've taken on the assignment of helping him add as many new songs to his catalogue as possible by flexing my lyric-writing muscles.

Back in my days at National Academy of Songwriters, I used to refer to professional songwriters in this town as "blue collar songwriters." That is, they went to work and clocked in to their studios the same way any other worker would clock in. They usually have a list of songs that need to be written, maybe for movies, TV, videos, records, games... the list is endless and I met so many great writers whose names you'd never know.

I never really became this kind of songwriter. My adult career began with The Last Session. During the time I was at NAS, I didn't write very much. My job was to help others. I became a kind of entrepeneur in the non-profit field. I worked and advocated for songwriters and fought against the constant state of disrespect they endure, creating workshops, showcases, concerts and educational classes.

My point is that I never really dabbled in the pop field in any serious way. Sure, a song here or there, but still...

In 1996 I was a single guy with a cassette tape of 10 songs all recorded at a single session, just me and the piano. Jimmy's magical touch turned those songs into a work that brought us, not only a loyal and passionate following, but recognition. (I still remember the guy in Chicago this year who -- after hearing our stuff -- kept saying, "Who are you?? I thought I knew everyone! Who ARE you????" -- meaning I'm betting known in some circles than others).

The TLS years brought me into schools, churches, theatres and other civic type institutions. Then, almost two years ago, The Big Voice once again veered me away from pop and back into the theatre. It feels odd to me because I didn't grow up with theatre. Truth is, pop songwriting was always my first love. So, to have a shelf full of theatrical songwriting awards just feels -- well, weird.

So, during this time at home, I was kinda feeling lost and though I have several projects incubating, I was frankly burned out. I needed something to get my mind off those self-generated projects so they could incubate a little. Then along comes Dave. It's a curious and interesting challenge. How many lyrics can I pump out before the end of the month when we are off to Omaha?

What if I were to take this month to be that "blue collar songwriter" that I admired so much back in the early 90s?

Stephen Sondheim compares songwriting to crossword puzzles. Each verse has a set rhythm. Each word has to say something -- no fair just wasting time till the chorus. The rhyme schemes should match, the internal rhymes should be consistent and not draw unnecessary attention to themselves. Every syllable counts.

And true to pop conventions, the titles must have some Punch to them, the stories compelling and interesting. So many things to remember but for me it's become like a game. Each day I look at each song and do a rewrite or add an alternate verse. All day long the songs are running in my head and I'll find myself "fixing" a line while getting milk and bread at Ralphs'.

For instance, this morning, after tussling all last night over a song that Dave is particularly fond of (he has a killer chorus but couldn't quite find the verses), I woke up straight out of a dream and the key to the lyric just appeared in my head. It all came to me. So I dashed upstairs at 5am and started writing. And it all starts with the CONCEPT. It all has to make sense and it all has to be ABOUT something if I'm going to have anything to do with it.

But funny how you can puzzle over something for hours or days or weeks and then suddenly, out of the blue, it hits you.


May 19, 2004.
Jon & Steve email.

Jon Lambert,

You're still on this list? Ladies and gentlemen, I sometimes take for granted the extraordinarily high quality of the human beings who populate it. Jon Lambert is the celebrated young actor who played Buddy both in Indianapolis and in Chicago.


--- In tls@yahoogroups.com, jon lambert wrote:
> Suprise! You've been writing pop all the time you big lug. I can't tell you the number of people who ask me why they've never [heard] many of the TLS songs on local radio.

Jon, I ask myself the same thing. The fact is that the recordings of my songs don't fit into any genre, per se. They're just songs.

I have this sickness. I'm genre-blind.

It's like a post-modern malady similar to the character in William Gibson's most recent SF novel. She was allergic to trendy logos, so she would be hired by firms to look at their proposed new logos and if she didn't break out into an allergic reaction, then they knew they had a good logo design that was like no one else's. The ultimate Hip.

I break out in a rash when someone asks me what kind of music I write. I absolutely hate that question. For one thing, there has never been any great push by anyone until recently to do a show of them outside of just doing TLS. But as you saw, Alexandra Billiings and I had an instant electric connection. I don't think she even knows how good she is. We've been planning a little creative meeting in Chicago when Jimmy is there with Africa Plumbridge.


>It's only when I tell them that they're from a musical that they even begin to think of them as musical theatre.


See? Your friends are having the same problem. LOL.


>You have a nack for writing things that relate to people ( and they're pretty darn catchy too), and I think that's kind of what pop is all about. It is blue collar in that it's "the people's music".


Like "Bernadette: The People's Musical!"


>You're a "people's person". You'll flourish, that's what you do.


I genuinely like people but I can also say the wrong things and act like a total jerk. People can only take me in small doses. So let's not make me too angelic, okay?

I had this flash of insight, though. Let's say you're going to write songs for a specific pop singer. A young teenager, for instance. I thought back over the many seminars I held at NAS and tried to think it through. First of all, I'm not a teenager. (I was young once and I am still wildly immature, though. So I knew I could bring something to this party.)

First I go on itunes -- and this is not a commercial but let me just say I love itunes. I don't have an ipod and don't plan to get one but it lets you sample everything. I mean theoretically, I could listen to some, buy a few, imitate the style and write a generic song, I suppose. But that just sounded too boring.

So, I thought of it as a theatrical challenge. Before I even START to think about the MUSIC, I wanted to know the person singing. An artist is someone who opens and bares their soul. A new artist should be more than just a good voice. It's not enough, for me, that someone stand up there and "sing good."

So, creatively, the "genre" is totally irrelevant in this part of the process because until you know what you're writing about, you can't give voice to it.

I needed her voice.

But how do I get her voice? In the challenge I've accepted, I requested from her some writing. It was like a homework assignment. I asked for some very specific information and I asked for it to be delivered to me in a very specific format. (I would say more but I kind of consider this a trade secret. I'll drop hints along the way and the more observant readers can pick up on it.)

She responded to my request with a completely real and almost shockingly unexpected story. It wrote itself and became a lyric which I then passed on to David. The song has her voice. For me, it's like giving someone a gift, when you give voice those who usually are not heard.

Jon, it was nice to hear from you. Give all the Indy gang my love and tell them I'm still on the Indycalllist YahooGroup and that we're looking forward to seeing everyone in August.

Steve
coming out of his cave
and going back in

May 20-26, 2004.

This past weekend, I drove up to San Francisco to sing for a group called Thrive, a group of HIV positoids. It's part of a pasta dinner program being put on by The Center. I don't know what got in me, but I didn't really bring anything special to wear so, it being San Francisco and all, I wore a tank top and a black leather motorcycle jacket on stage. I must be having an identity crisis doing all this musical theatre where I have to dress all nice in my Sunday go to meetin' clothes.

As much as I love musical theatre -- well, here's an example. I drove down up there with my friend, Larry. We were staying with Ken McPherson. Since they didn't really know each other, they were bonding over their mutual love of theatre, how they'd both gone to UCLA, etc. and how, at that time, they were dissecting some piece of musical theatre.

I looked over at them and said, "While you guys were pourin over you Hair album, I was studying Neil Young's After the Goldrush album like it contained some kind of mystical secret to great songwriting."

So, I decided on Saturday night there in San Francisco that I was not going to wear my church outfit. I put on my black leather and pounded the piano like Jerry Lee Lewis. Then, at a dramatic moment, when I was sweating and overheated, I threw off the jacket revealing my worked out body.

And that's another thing.

Yesterday, Tuesday, I went back to the doctor to do a blood draw after a fast so that we could test my triglycerides and cholesterol. So this week, just knowing it was coming up, I've been up here in my loft, working these hand weights and using the staircase like a stairmaster. (Of course, the fact that it's a spiral staircase leaves me a bit dizzy, but who cares?)

I've actually been quite busy over the past week. Our friends Sue, her daughter Africa and composer Karenna. Sue, Karenna, Jimmy and I had a real Hollywood moment. We sat in the garden of the Beverly Hills Hotel reading their new script out loud. Jimmy had just finished putting the finishing touches on the book and it was our first time, all of us, to read it out loud.

The show, Africa Plumbridge, is a modern pop rock R & B musical about Sue and Africa -- how Africa survived a dreadful childhood, and how Sue and Africa found each other in a home for abused kids. It's a thrilling story with a hot, melodic score. By the end, we were all laughing out loud and crying real tears. I'm so proud of Jimmy's work on this -- and proud of Sue and Africa for telling their story and allowing it to be told.

After we play Omaha (starting next week!), we are home for a week or two, then off to Chicago for the workshop of Africa Plumbridge.